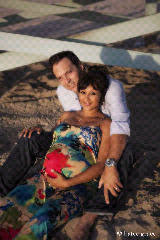 It all started Thursday night, October 11th, during the Vice Presidential debate. Tamera Mowry innocently re-tweeted a follower who said they were having a hard time following the debate because the candidates kept talking over each other. Well, couple that comment with the fact that Tamera is married to a white man who happens to work for Fox News, Adam Housley, and the people on twitter took that as an attack on Biden and support for Romney.
That is when the
attacks
on twitter started to fly. A lot of them being racially motivated. Tamera attempted to make it clear that she had not admitted to supporting either political party, yet that was not enough to calm down the folks on twitter. Hubby came to the rescue to defend his wife and put the people who ignited the racial comments to shame.
Check out the
actual twitter comments
from Tamera Mowry and Adam Housley.